Today's consumer relies on Search Engine Optimization to help them find everything from restaurant recommendation, travel booking to B2B. The target audience would be searching for products or services on search engines like Google. Many businesses need SEO for their digital properties, and the benefits they will get from that SEO work being implemented on their behalf.
SEO improves the website's overall searchability and visibility, in this blog, you will learn why SEO is important for your business and what real value does it offer.
You may be having a business in an industry where there is very little to no competition hence, you might be ranking no 1 or struggling to rank at all. No matter what the situation is, if you have a website of your business SEO is Important. Whether your business is old or new, struggling or successful, small or large, SEO is crucial to your online success, even if you are the only one leading in your industry, SEO is still important.
There are many things about your business that you can't control. for instance, you can't control when a new competitor appears, how your customers react to a new product launch, or your profits.
But with Search Engine Optimization, you can certainly control your rankings to some extent, you can control how many visitors come to your website, which directly impacts how many online sales or leads you get and which impacts the amount of money you can make from being online.
If you invest in your website's SEO, you are investing in its visibility and profitability. So, no matter what happens tomorrow, if your SEO is constant, you can count on that visibility to help your business grow and prosper. That is why SEO is so important for every website, no matter what your business does.
Here are some examples of businesses that can benefit from SEO:
Manufacturing
Healthcare
Retail
Fashion
Product base
Home services
HVAC
Many more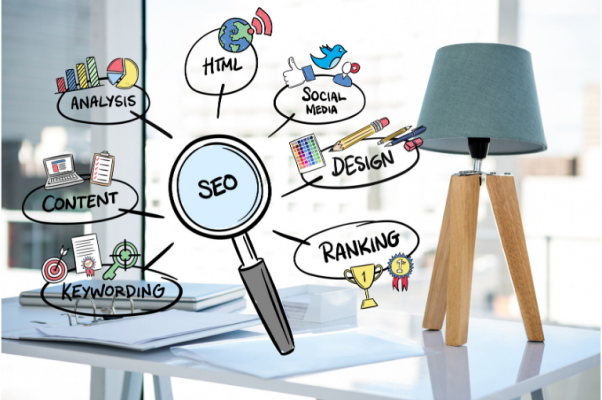 5 reason why SEO is important for your website
Long-lasting results for a Business
SEO is a long-lasting strategy for any website which brings long term benefits. Many times, you might have asked this question to SEO expert "How long will it take to get my keyword ranked on 1st position" many businesses and companies start SEO and give up within one month. If your website is new you will see a result approximately after 3 months. It might seem a big period, but if done correctly, it will keep your website on SERP and the results you get can last for years.
Higher brand credibility & authority
The internet has drastically changed how the sales process looks like many processes. It's because today, consumers have access to a wealth of helpful resources that can help them learn about their product/ Service before they speak with a sales representative. SEO optimization has become part of that learning process.
People never scroll past the first page of search engines, if your website is not ranking on the first page of Google, or any other search engines, you are missing out on potential clicks and overall organic brand awareness. By getting the top spot on first-page search engine results, you are guaranteeing yourself a continuous stream of organic website visitors. SEO can help you by offering visibility in SERP and afterward with monetary results, but you have to invest time and money in it.
Low cost when compared to PPC
In SEO you need to invest only costs an investment of time and patience on your part, as compared to another advertising method where you have to pay every month to receive traffic on your website. SEO can be cheap if you consider it for a 6-month plan. Once you find yourself on top of SEO results, then you can invest in a small budget into PPC (pay-per-click) advertising. Lots of people don't invest in search engine optimization because it is expensive at first and desire to look for cheaper alternatives that unfortunately don't have continuity and stability.
Easy to measure your customer
The biggest advantage of SEO is that you can measure every aspect of your results, it is easy to see the return you are getting from your SEO investments. There are various tools available in the market, but Google Analytics is one amazing tool that is highly recommended, as the data metrics are valuable, authentic and accurate. Google Analytics is used to monitor your website traffic, referral sources, conversions, and any other metric that matters to your business.
SEO optimization tools
To improve your keyword research: Keyword research is the first step in any successful SEO strategy, and there are several tools designed specifically to help you identify the best possible keywords for your business:
Google keyword planner
Uber suggests
io
On-Page optimization
ON page optimization is an essential part of the SEO process. The following tools can help you with ON page
SEMrush
Redirect Path
Screaming Frog
Off-page optimization
Another essential part of SEO is off-page optimization, which primarily involves earning backlinks and the two recommended tools are:
Ahrefs
Open Site Explorer
To monitor the result
As you make changes to it's important to measure the impact of those changes, the best tools for monitoring is
Google Analytics
Google search console
Optimizing a site is a challenging process, which required your time patience and planning to achieve the result you want to get from SEO. If you are willing to invest then the results you'll see in terms of sales and revenue are entirely worth it.
Melon DxB is leading Marketing, Advertising and search engine optimization agency in Dubai. 360-degree solutions are for all your digital needs, it is one hub where incredible ideas are transformed into innovative solutions. Our conceptualizing strategic communication campaigns for various industries/brands. We have been creating consumer-centric strategies, and designs for clients across various industry verticals.